School Safety Reminder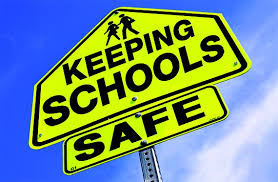 ---
It appears that we finally have some winter weather! Happy December to everyone. I hope your holidays are filled with the things that make you happy.
Today I'd like to discuss the sensitive topic of school safety. It is probably fairly obvious that there are many, many components that go into this topic--emotional safety, physical safety, respectful language between individuals and groups, behavior, bullying prevention, the facilities themselves, responses when problems do arise, etc.
As we do with academics, the district uses several methods to regularly monitor, elicit feedback, and provide instruction regarding this incredibly important aspect of school life. These methods include student surveys, focus groups, interviews, behavior data, and more. These methods of feedback have informed the district in creating our World Class Relationships Framework, an all encompassing policy document discussing physical safety, the affective (social-emotional) environment, restorative practices, consequences, and communication.
As part of their ongoing improvement efforts, schools have risen to proactively address many of the challenges students are experiencing as the pandemic drags on. For example, guest speakers discussing kindness and gratitude, mental health and wellness, and service have all delivered powerful messages so far this year. In addition, advisors and teachers have focused on delivering instruction around our SEL Pillars, particularly focusing on empathy and kindness. Various schools have founded Kindness Crews, which (along with other student groups) go out of their way to help students feel a sense of belonging. Coming in January, instructional staff will again engage in a deep dive of restorative practices and creating vibrant environments in their classrooms while responding to challenging behaviors in ways that help students learn and grow versus excluding them from the learning process.
As discussed above, these efforts are measured by collecting data from students. Very recently, we administered the statewide SEL survey. We will have results from that soon which will further help us adjust to conditions as students see them.
I would like to share with you some data from last year's SEL survey. These are only a few of the comprehensive questions that schools study in order to make adjustments. 88% of students districtwide either agreed or strongly agreed with the statement "I feel safe at school." 82% of students districtwide either agreed or strongly agreed with the statement "I feel happy at my school." We are pleased that--even in the midst of a pandemic, required masks, limited athletics and extra curricular activities, etc.--that most students feel this way. Obviously we are working very hard to increase those numbers which does require a great deal of work in trying to meet each individual student's needs.
Here is another data point. 17% of students agree or strongly agree with the statement "Students bring knives or guns to school." Now--we live in a hunting community. We value the Second Amendment. We recognize the utility of pocket knives and other tools. But, and I say this without reservation or hesitation, there is no time when it is acceptable to bring knives, firearms of any type, or any weapon or item that could be used as a weapon onto a school campus. I respectfully ask that all parents reinforce this at home. Please regularly check your students' backpacks and talk with them about how important it is to keep our campuses free from these items.
Similarly, as vaping has gained popularity in society, we have seen a dramatic increase in students bringing vaping implements to school. Again, there is no time when it is acceptable to bring these products onto campus. As families, please support us in our efforts to keep our campuses tobacco and drug free.
I hope I speak for everyone when I say that we do not want metal detectors on our campuses. We do not want to search students' backpacks everyday for contraband. And also, we want our schools to be free of the items I described above. That means we really need to rely on our families to ensure that students are complying with these necessary elements of school safety.
If you or your student has a concern about this message, please feel free to contact me at 775 293 0584. If you wish to report a weapon suspicion or school safety matter, I invite you to contact your school's principal or use the SafeVoice platform.
Thank you for your support as we work to build the world class learning environment that we all desire for our students.