School District Students Persist in Their College and Career Readiness Preparations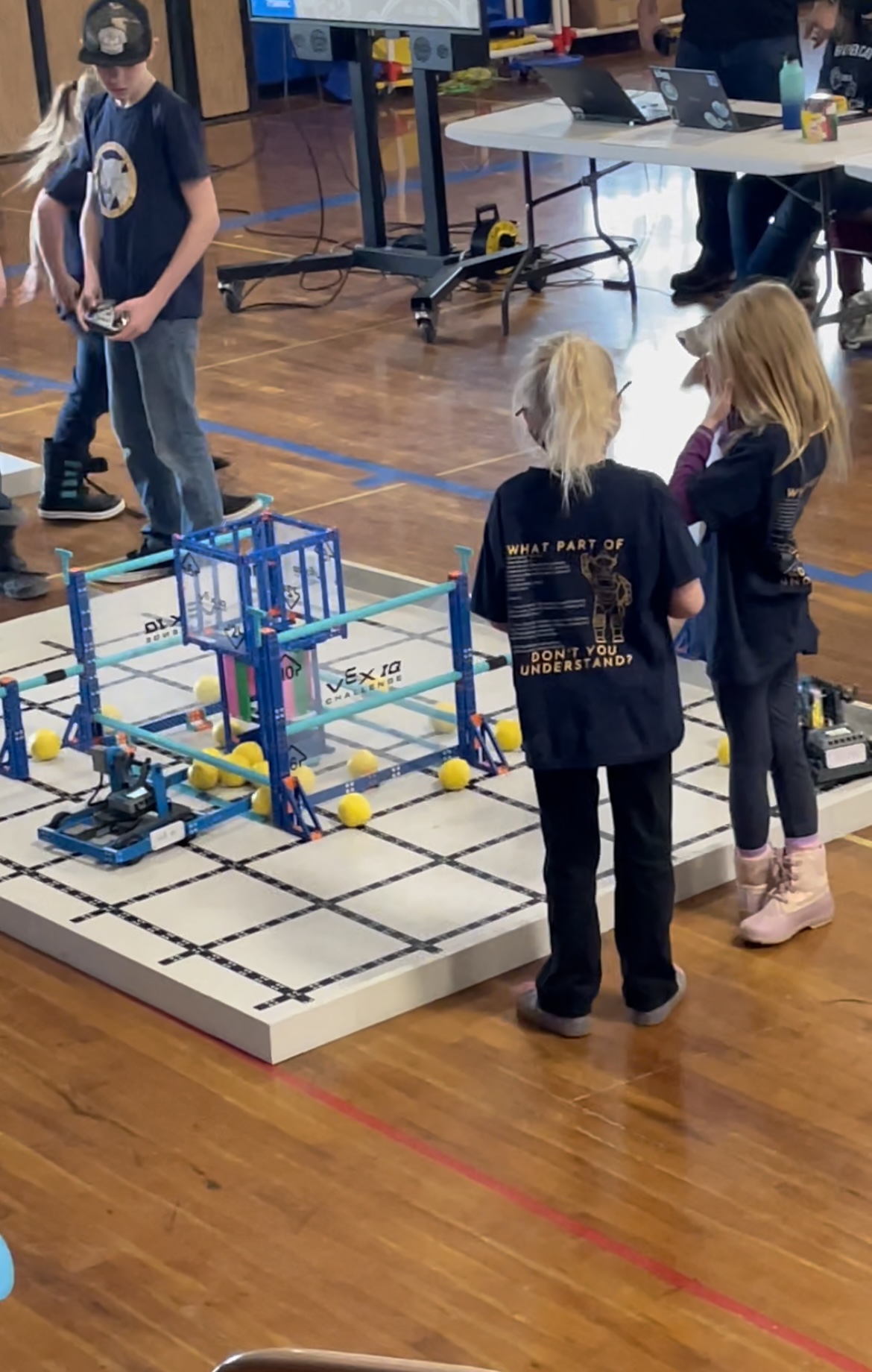 ---
Going into the third year of a global pandemic can feel unsettling and frustrating. While it can be tempting to just wait until things settle down to focus on moving forward, WPCSD students--with the guidance of their educators and support of their parents--have been continuing to focus on learning experiences that prepare them for the future.
The WPCSD robotics teams have had a busy season. Students in grades 1-8 from DEN, McGill Elementary, and WPMS compete in Vex IQ Robotics. These students work in teams of 2-4 to design, build, program, and drive their robots to play one-minute matches. Points are scored by pushing or throwing balls into scoring zones and hanging the robot on a bar at the end of the match.
DEN Elementary has hosted two robotics tournaments this season. The Vex IQ teams have also traveled to several tournaments in Utah and Las Vegas. The most recent competition was held on January 29 at Pinecrest Academy Sloan Canyon. WPCSD teams competed against 33 teams representing 12 different schools and organizations.
WPMS team Minotaur (Caiden Castellano, Camdon Weaver, and Masson Blades) placed third in the teamwork portion of the event. WPMS team The Pitstoppers (Kaleb Nielson, Landon Neilson, Thomas Murphree, Brennen Castellano) placed sixth in teamwork, third in robot skills, and earned the Think Award for the most effective programming.
DEN team Furry Piggycorns took fourth place in robot skills, which was the highest of any elementary school team, and earned the Build Award for the most durable robot. DEN team Robotics Club (Alec Campbell, Joel Robertson, Alyssa Nielson) placed fifth in robot skills and 16th in teamwork. Uni-echidnas (Samantha Murphree, Willow Sangster, Harleigh Lucero, Lidia Boone) placed 15th in teamwork and GigaBites (Eva Sorensen, Rebecca Murphree) placed 17th in teamwork.

White Pine High School has two robotics teams this year. Team The Lone Survivor is competing in the Vex Robotics Competition Middle School Division with Tanner Hegg as its only team member. His birthdate makes the team a middle school team according to the competition rules. The Lone Survivor will compete on February 19 in Las Vegas. This is Tanner's first year in robotics. Team Been There, Done That is competing in the Vex Robotics Competition High School Division. They have won the Judges' Award, second place tournament champions, and have one of the top 10 robot skills scores in Nevada. The team members are Sydney and Carter Nielson. This is their sixth year competing in the Vex Robotics Competition. Both team members have been to Vex IQ World Championships several times prior to competing at the high school level. They will be competing at state on February 26 and are expected to place well.
All of the WPCSD teams will be competing in the state championship in March and hope to qualify to compete at the World Championship, which will be held in May.
January was also time for the annual senior presentation tradition. WPCSD students participate in Senior Achievement during the first half of their senior year. In this course, students create resumes, complete job applications, participate in mock interviews, learn about personal finance and budgeting, and conduct research into future careers and the education needed to prepare. As part of the course, they prepare a presentation to share what they have learned and their future plans.
Lund senior Justin Rimington shared with his audience his plans to pursue training and a career in emergency services. He discussed the impact participating in athletics has had on his educational experiences. And he emphasized the importance of being financially independent.
WPHS senior Hailey Oxborrow discussed her experiences in softball, band, and choir along with her dual credit college courses. About her Senior Achievement course, Oxborrow said, "I found the course to be extremely helpful while preparing for my future. I've learned how to fill out a W2 form, balance a checkbook, and how to be smart about credit cards. I'm grateful for this class and how it has helped me manage being on my own."
WPCSD seniors must complete their senior presentation as well as 10 hours of community service as part of the requirements for graduation. Counselor Steffani Thompson noted, "Seniors learn that part of being a good citizen is contributing positively to your community and that volunteers are an integral part of communities. Seniors participate in such projects as making math manipulatives for elementary school teachers, putting together furniture for schools, helping at Arts in the Park, helping at the fair, assisting in coaching and reffing youth sports games, helping deliver holiday food baskets to families in need, and more."